Whew - today was fun!  Started with a shopping trip to Target and TJMaxx - two of my favorite stores.  I always enjoy shopping!   Target was mostly for things like snacks, toilet paper, and paper towels (love their new store brand, "up & up")  While there, I noticed the cheap little  "wood" cubbies were on sale, so decided it was time to replace some of the white plastic shelves in the girls' room.  I already had the fabric bins, so Jen helped me get everything organized once I had it put together.  This is her side of the room...could she have put even one more thing over here?  LOL!  She's on her new laptop - got it last week for her birthday.  Spoiled.  It's a lime green Dell...really cute.  She's supposed to share it with me, but so far, I've only used it once.
I also finished a silly little painting this morning.  She's inspired by my little gothic clothespin doll.  Just put her in the shop .  I really love these colors together!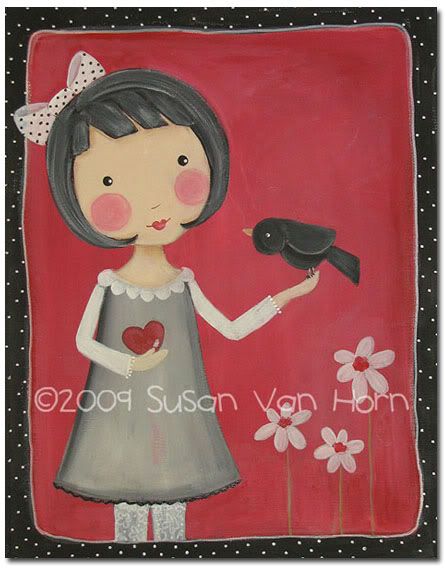 Lastly, I have to share what I got in the mail yesterday!  These are Japanese cotton linen fabrics.  Aren't they sweet?  I have some fun ideas lined up for them - stay tuned!  That cherries one is my favorite.  I can't wait to cut into them!