Unfortunately our huge apartment comes with a tiny second bedroom.  It's only 10.5 x 10.5, so it makes for tight quarters when shared by two.  Because of this, we decided to get a bunk bed.  Cam sleeps on top - Jen on bottom.   The girls like having their little blue fans blowing on their faces all night long, so I had to put these white plastic shelves next to the bed to reach up to Cam's level.  I've been hunting for something more attractive, but haven't found anything that will work just yet...I wonder if I could spray paint these pink?  At least they match the quilts.  My girls are savers and stashers...every shelf they own is covered in stuff.  I try to get rid of things and hope they don't notice, but usually they do! The quilts are from Pottery Barn Kids and the bunkbed is the Columbia bunk bed by Atlantic which I ordered online after reading 100s of reviews.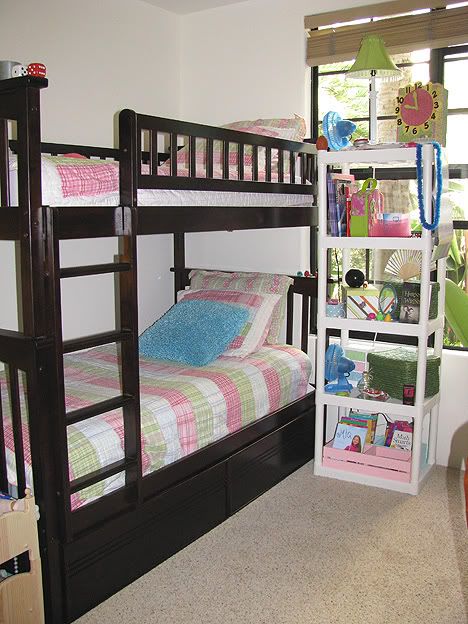 Each girl has their own special desk and area for their things. This is Jen's area. Notice the Harry Potter books displayed on top of the jelly cupboard...she's a HUGE fan!...obsessed! (Like her mom!) The fairy paintings were done when we moved here 3 years ago. The desk was given to me as a child by my grandparents. I stained the jelly cupboard myself when Jack and I were in our first apartment.
Cam's Corner is a little more crowded as she gets a much smaller space (but doesn't seem to mind!). The little desk was given to us by a neighbor - it's the only Shabby Chic-ish thing I own. I bought the doll bunk bed for her at Christmas with the intentions of painting it...but as you can see, that's a job for another time!
Luckily the room has enormous closet space. Most of our toys are stored in baskets on the shelves behind the mirrored doors...I love that they aren't all strewed over the floor! The mirrors, while dated, do make the room seem bigger...and it's nice to see how you look when putting together your outfits!
This last picture I'm sharing as I know my nieces and mom will find it funny. When Jen first laid on her lower bunk and looked up, she commented that the wood slats were very unsightly. I told her she could stick a poster or something up there....so this is what she did!...
As I sit here at my desk uploading pictures, I often doodle on the backs of old printouts. Here is what I doodled today...now to go see about turning some doodles into paintings!
Have a lovely day!